Judging panel 2022
Chair of the judges: Adam Cadle, Editor, Insurance Asset Management
Adam Cadle is a business and finance journalist with ten years' experience, and is currently the editor of MoneyAge and Insurance Asset Management. He has extensive experience of writing about the UK pensions space having previously worked as deputy editor on Pensions Age and European Pensions, as well as in depth knowledge of the global insurance asset management arena. Adam has chaired a number of judging panels and conferences over the years, both in the personal finance and insurance asset management spaces. He is a graduate from Sussex University with a BA honours in French and History and is NCTJ qualified.
Neil Holmes, Director – Insurance, Client Consulting, bfinance
Neil is a director within the client consulting team, joining bfinance in early 2018 to focus on the Insurance Market. Neil has had a long career in the banking and asset management industries, including 20 years covering insurance clients. Prior to bfinance, Neil has worked for Conning Asset Management, Credit Agricole Corporate and Investment Bank, Fortis Bank and Barclays, as well as a period teaching financial professionals about Non-Bank Financial Institutions. He has a BSc (Hons) from the University of Bristol.
Rebecca Lea, Policy Adviser, Prudential Regulation, Association of British Insurers
Rebecca is responsible for leading policy analysis and influencing in support of the ABI priorities on climate change and prudential regulation. Rebecca joined the ABI in 2020 from Capco, a financial services consultancy. Here she held multiple roles across projects for FTSE100 clients in the Financial Services sector, and specialised in regulation. Rebecca began her career as an Economist at the Centre for Economics and Business Research, having studied economics at the University of Cambridge.
Sumit Mehta, Head of Investment Solutions, L&G
Sumit heads Investment Solutions in Legal & General's Retirement division (AUM: ~£70bn), where he leads portfolio construction, strategic asset allocation and implementation for new tranches of AUM acquired via its market-leading Pension Risk Transfer (buyout) business. Sumit has led investment strategy on some of the UK's biggest buyout transactions, such as the Aegon back book acquisition and derisking deals with BA, ICI PF and the Vickers scheme. Sumit also leads the Quantitative Analytics group, currently focusing on building LGR's quantitative infrastructure for the long term. Prior to L&G, Sumit worked for 8 years at Royal Bank of Scotland in its fixed income division, where he held responsibility for inflation structuring. In 2016 he was nominated by the Trade Magazine as one of the "Forty under Forty" Rising stars in the finance industry. Sumit holds an MBA from the Indian Institute of Management, Bangalore.


James Mitchell, Head of Manager Selection & Oversight, Phoenix Group
James ran the Transition Management businesses at Barclays Invest Bank (1yr) and previously Goldman Sachs (10yrs), he started his career at Goldman in Equity Portfolio Trading in 2000. He has lead and executed more than 50 multi billion pound transition management exercises, achieving significant investment portfolio change for large institutional asset owners whilst mitigating market risk and cost. Over this time his clients have included many European Governments, the majority of the largest DB Pension Funds in the UK, UK Insurers (Zurich, LV), and Large Family offices, with an estimated value of transition assets of more than £250bn across global Fixed Income, Equity, Derivatives and Foreign exchange markets. Has over 20 years of experience in the physical execution of asset transitions between Asset Managers and has deep understanding of Asset Manager capabilities, both investment outcomes and operational capabilities.

Raymond Sagayam, Chief Investment Officer Fixed Income, Pictet Asset Management
Raymond Sagayam joined Pictet Asset Management in 2010 as Head of Total Return Fixed Income. In January 2017 he was appointed Chief Investment Officer of Fixed Income. Before joining Pictet, Raymond was a Managing Director with Swiss Re Asset Management, head of dollar and euro investments, focusing on credit relative value strategies. Before that, he worked for Bank Brussels Lambert (ING) trading US Credit. He has traded credit across all major geographies and began his career at ING Barings in Emerging Markets in 1997. Raymond holds a Bachelor's in Economics from the London School of Economics & Political Science (LSE) and Master's in Contemporary Theology in the Catholic Tradition from Heythrop College, University of London. He is also a Chartered Financial Analyst (CFA) charterholder.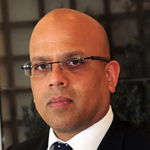 Deepak Seeburrun, Head of Insurance EMEA, HSBC Asset Management
Deepak Seeburrun, Head of Insurance leading the insurance business development initiatives within HSBC Global Asset Management in the UK & EMEA. He has over 23 years of insurance industry experience including insurance company board, insurance advisory roles within Investment Banking & Markets, Asset Management and Insurance Companies. Deepak started his career pricing insurance products, such as variable annuities, CPPI and then moved into insurance solutions client facing roles.Within asset management, his team focuses on providing bespoke investment solutions, ALM, Risk and Climate Solutions. He has successfully been working with a number of insurers by helping in their transition to net zero carbon intensity. He holds an MSc in Mathematical Finance from Christ Church College, Oxford University, Fellow and Chartered Mathematician, member of the Institute of Actuaries and the Chartered Institute of Securities and Investments.